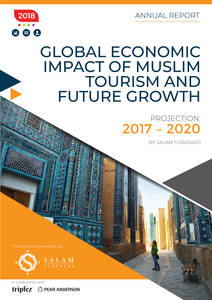 Global Economic Impact of Muslim Tourism and Future Growth Projection: 2017 - 2020
The industry will employ 5.6 million worldwide and have a projected tax impact of $24 billion by the end of the decade, according to the 'Global Economic Impact of Muslim Tourism and Future Growth Projection: 2017-2020' report:

• GDP generated by Muslim travel plays a key role in the total GDP per country, ranging from 4% in Vietnam to 78% of total tourism GDP in Saudi Arabia
• Asia has started to benefit from inbound Muslim travel expenditure, forecast by 2020 to have 1.2 million jobs directly supported by the Muslim travel segment out of a total of 2.3 million globally
• Asia will also play a bigger role in outbound Muslim travel expenditure, with Malaysia, Indonesia and China combined set to contribute 17% of the total global spend, outpacing Europe by 2020
• The USA still benefits disproportionately from Muslim travel, with close to 300,000 people employed and $43 billion of inbound Muslim tourism spend forecast by 2020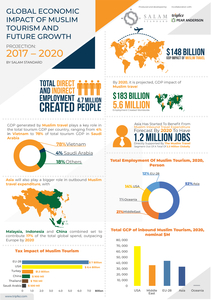 Global Economic Impact of Muslim Tourism and Future Growth Projection: 2017 - 2020
The industry will employ 5.6 million worldwide and have a projected tax impact of $24 billion by the end of the decade, according to the 'Global Economic Impact of Muslim Tourism and Future Growth Projection: 2017-2020' report:

• GDP generated by Muslim travel plays a key role in the total GDP per country, ranging from 4% in Vietnam to 78% of total tourism GDP in Saudi Arabia
• Asia has started to benefit from inbound Muslim travel expenditure, forecast by 2020 to have 1.2 million jobs directly supported by the Muslim travel segment out of a total of 2.3 million globally
• Asia will also play a bigger role in outbound Muslim travel expenditure, with Malaysia, Indonesia and China combined set to contribute 17% of the total global spend, outpacing Europe by 2020
• The USA still benefits disproportionately from Muslim travel, with close to 300,000 people employed and $43 billion of inbound Muslim tourism spend forecast by 2020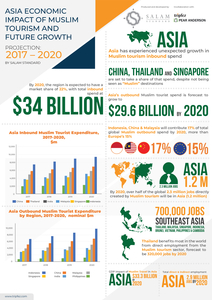 Asia Economic Impact of Muslim Tourism and Future Growth Projection: 2017 - 2020
Region to claim 22% share of global Muslim travel spend and employ more than half the 2.3 million jobs directly created by the industry worldwide, according to the 'Global Economic Impact of Muslim Tourism and Future Growth Projection: 2017-2020' report:

• Non-Muslim destinations including China, Thailand and Singapore set to take major share of inbound Muslim travel spend
• Asia's outbound Muslim tourist spend forecast to grow to $29.6 billion by 2020
• Indonesia, China and Malaysia will contribute 17% of total global Muslim outbound spend by 2020, more than Europe's 15%
• Huge opportunity for global destinations to develop halal-friendly tourism offering for Asian Muslim travel community
• Middle East also a source market for Asian destinations, generating the majority of global outbound Muslim tourism spend (61%) at $62.2 billion in 2017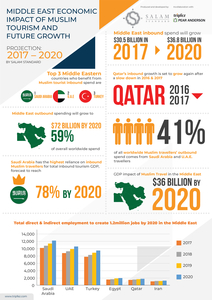 Middle East Economic Impact of Muslim Tourism and Future Growth Projection: 2017 - 2020
Region's outbound spend to rocket to $72 billion, or 59% of the world's total, while inbound spend will reach $36.8 billion, with KSA and UAE dominating, according to 'Global Economic Impact of Muslim Tourism and Future Growth Projection: 2017-2020' report

• Saudi Arabia, the UAE and Turkey are top 3 Middle Eastern countries who benefit most from Muslim tourist inbound spend
• Saudi Arabia relies on Muslim travellers most for total inbound tourism GDP, forecast to reach 78% by 2020
• Industry to create 1.2 million jobs in the Middle East by the end of the decade
• Middle East contributes majority (61%) of outbound Muslim traveller spend at $62.2 billion
• This will rise to $72 billion by 2020
• Travellers from Saudi Arabia and the UAE are the biggest spenders and will represent 41% of all outbound Muslim travel spend by 2020
The Global Economic Impact of Muslim Tourism - 2015/2016
Since the downturn of 2009, global tourism has grown by over a third (37%) in inflation- adjusted terms, outpacing world GDP which grew by just a fifth (21%) in the same period.
Over 10% of global tourism spending is spent by international Muslim travellers, from all corners of the world. In 2015, this Muslim travel market accounts for $145 billion of international tourism spending. This report looks at the economic impact of this spending, across 19 individual economies, plus Europe.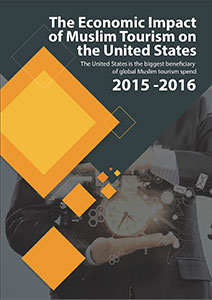 The Economic Impaccht of Muslim Tourism on the United States - 2015/2016
The Global Economic Impact of Muslim Tourism report is a new research paper published by Salam Standard, the new hotel standard and reference tool dedicated to the needs of Muslim travellers. The aim of this inaugural report is to increase the understanding of the economic impact of this fast-growing market segment. This executive summary reveals the findings of the economic impact of the Muslim tourism industry in the United States. The full paper will be released in Q4, 2016, providing a true global perspective of the growing importance of the Muslim travel sector.